I'm a native Texan and have lived here all my life. Seems like I'd be a little wary about venturing out on the highway in the face of an ice storm, on a journey of 440 miles. Unfortunately not
We didn't get started from Houston until 1:00 p.m. The temperature stood at 50 degrees. I've been making that trip to our old family farm every six to eight weeks for over fifty years (a round trip of almost a thousand miles). I thought I'd seen it all.
I usually go with my brother Bob. He has an Agri-business out there that demands constant attention. When he called and said he had to make an unexpected trip home, and invited me, I said I'd love to go. I go home every chance I get, riding with him or one of my grown kids and having the most fun. We play and work hard while we're there. I write and the hunters hunt.
We are into blood sports in our family. The kids, grandkids, and various friends are in the stands at dawn and dusk, when the game may be legally taken. We vacuum pack family-sized portions with a handy little gismo that takes all the air from around the meat, freezing it until we get it to our home freezers. In season, we take deer, feral sows and piglets, and turkey, quail and dove. That's good eating.
One of my daughters, when I phoned to say I was going, had a hissy fit. "No, Mom," Linda exclaimed. "The weather report says there is an ice storm across northern Texas. Please don't go." I also got calls from daughter Anne Marie and son John. All three of my children begged me not to go. They called their Uncle Bob to protest, but he is fifteen years younger than I and always defers to what he considers my superior judgment. Ha!
His huge pickup truck has sensors and read-outs that got scarier the farther north-west we traveled. The sky was clear until we got to Brenham, then sleet began to fall. So did the temperature. Drastically. A skid into one of the deep "bar" ditches would mean calling an ambulance for me and a tow truck for him. The bridges were treacherous. The road was sheathed in ice. At times, we drove five miles an hour. We made only necessary rest stops and ate inside the truck. We stayed cozy and warm but by the time we reached Abilene, it was a bitter eleven degrees outside.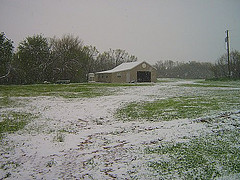 We got to the farm at three in the morning and I put messages of our safe arrival on my kid's phones. Bob lit the heaters in every room but it was hours before the house was warm. The next day Linda called for details, then said it for everyone. "We told you not to go, Mom." I do wish I'd listened. #